Homeland Security and Barnyard Animals
Greetings. So, it turns out that the "intelligence" triggering the sudden rash of new terrorism fears and alerts in New York, New Jersey, and Washington D.C. was based primarily on information collected several years ago -- even pre-9/11. And we're now told that there was no attack plan of any kind included in the data.
This morning at a press conference, Secretary of Homeland Security Tom Ridge said, "We don't do politics in the Department of Homeland Security."
Uh huh. I'll believe that when, well, you know ...
--Lauren--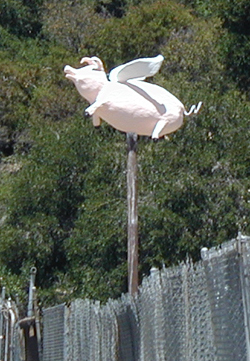 (A recent addition in Topanga Canyon)
Posted by Lauren at August 3, 2004 11:54 AM | Permalink
Twitter: @laurenweinstein
Google+: Lauren Weinstein